The first Tutor/Mentor Conference was held in May 1994. A conference has been held every six months since then.
The conference and other services of Tutor/Mentor Institute, LLC helps make k-12 tutoring, mentoring programs available to youth and volunteers in more places.

The goal of the Tutor/Mentor Institute, LLC, and the Tutor/Mentor Connection, is to help make high-quality volunteer-based tutor/mentor programs available in more of the high poverty neighborhoods of Chicago and other big cities and that volunteers who become involved in tutor/mentor programs have a life-changing impact as a result of many years of involvement, and growing levels of leadership. This is a vision launched in 1993 by one leader operating a single tutor/mentor program in Chicago.



The spring and fall Tutor/Mentor Leadership and Networking Conferences have been held in Chicago since May 1994. These videos provide testimonial from past participants and share ideas from different panel discussions.
This article was written following the first conference in May 1994. On this page you can see articles that have been written since then as a result of conferences and other events organized by the Tutor/Mentor Connection.

"What a great day Friday was at the Tutor/Mentor Conference in Chicago! This is either my 3rd or 4th one and I learn something new every time that enhances my programming and benefits my young people!"
See videos and comments from others who have attended past conferences.
The conferences are part of an on-going effort to connect people from many different sectors who work together to support the growth of volunteer-based tutor/mentor programs in many places. Read about this Network Building effort, here, and here.
As a result of the bi-annual conferences and T/MC web site strategies thousands of people are connected who might not have met each other. If you do a Google search for Tutor/Mentor, you see that T/MC web sites show up many times on the first page, making the ideas we share and links we point to available to millions of people.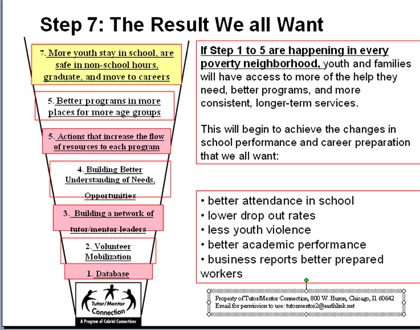 If you've been part of a past conference, or have been a volunteer or youth in a tutor/mentor program that has participated in past conferences, consider becoming a 40th CONFERENCE SPONSOR at one of the levels shown below.
While the Tutor/Mentor Institute, LLC is not a 501_c_3 non profit your support is essential to providing this event now and in future years.
A list of 40th Conference Supporters will be hosted on the Tutor/Mentor Conference web site for an entire year. Be the first to put your name on this list!