This graphic shows intermediary organizations in Chicago and Illinois who focus on the well-being of youth. I want to help them connect more frequently with each other.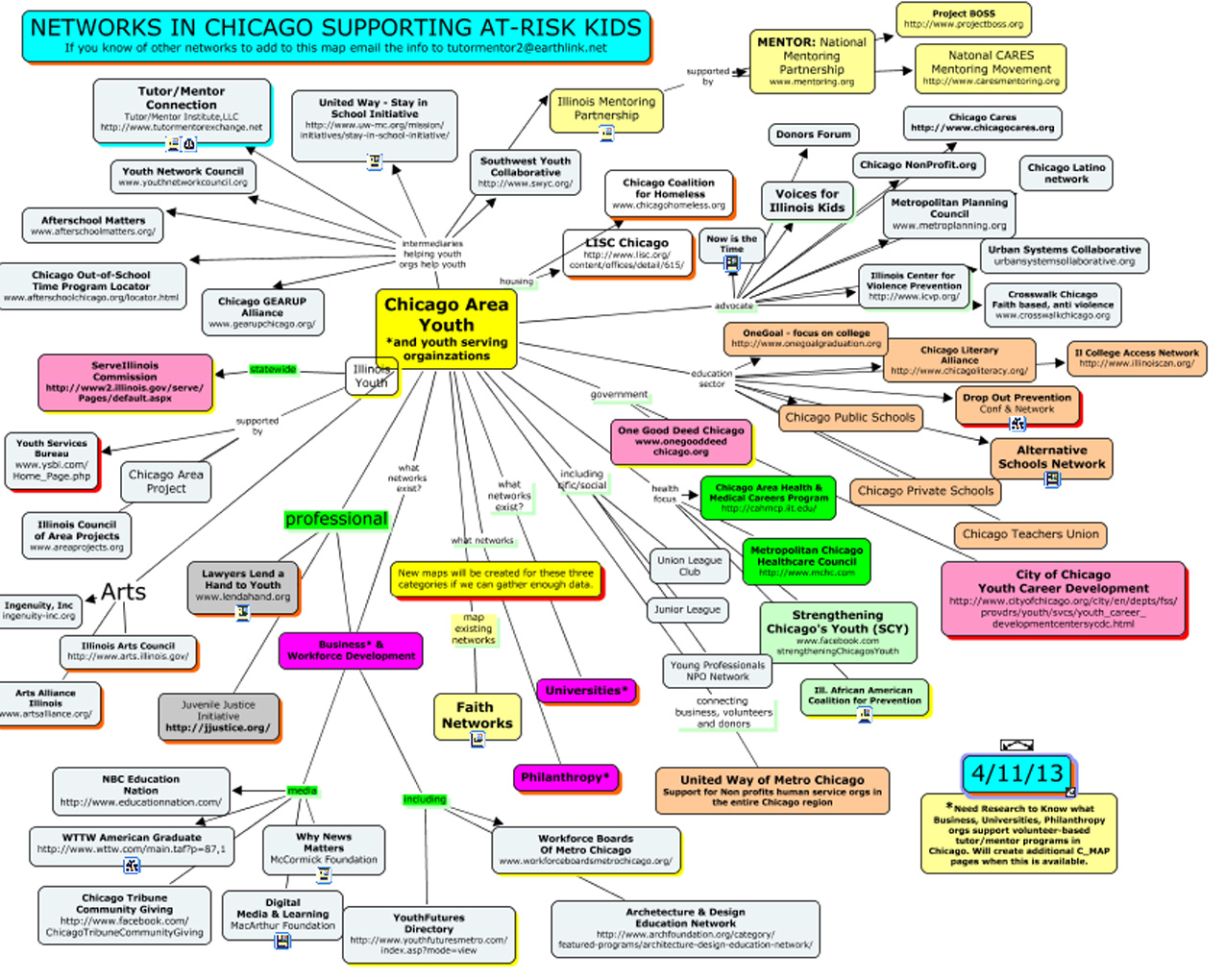 Images created by Tutor/Mentor Institute, LLC See this image at
http://tinyurl.com/ChicagoYouthNetworks
The Pope, Bono, Pallotta and Data.
I wrote a blog article with this title during Easter week, showing how important it is to build a database showing the different tutor/mentor programs in Chicago, and also showing the intermediaries, business, philanthropic and research groups who are working to improve the well-being of young people. This map is one that shows different intermediary organizations I've identified. I'm sure there are more. Most nodes provide a link to the web site of that organization, so you can connect from this map to others doing similar work. If on their site they had a map of their network, and they included a link back to this map, we'd be connecting people in our networks to each other.
Every time I host a Tutor/Mentor Conference I invite representatives of these organizations to participate and use the conference space to further their own agendas. The next conference is June 7. If you're reading this I hope you'll help extend this invitation so more will participate.
Collecting this Information is and On-Going Process
Some nodes need to be developed. For instance I have nodes for faith networks, university and business networks, philanthropy networks, etc. I don't know all of the organizations in these sectors with programs and strategies designed to help youth in one or more neighborhoods. Maybe YOU do. If we can learn who in these sectors is already mobilizing people and resources to support youth mentoring, tutoring, arts, technology and other types of non-school learning in high poverty areas, we can connect these groups to each other, and to the organizations we do know who are doing this work.
This data collection and mapping needs ownership in universities and well funded research organizations so the information can be collected effectively and updated regularly. However, it also needs a wide range of champions, in business, religion, media, politics, and individual youth serving organizations, who find ways every day to point people in their networks to the information, while helping them also apply the information in actions that support the growth and on-going operations of mentor-rich programs serving K-16 youth in every part of the Chicago region (or your own city).

See articles related to this topic:
Role of leaders - http://tinyurl.com/TMI-RoleOfLeaders
Community Information Collection - http://tinyurl.com/TMI-Information-Collection
Tipping points - http://tinyurl.com/TMI-TippingPoint
I've built a library with research articles and blogs where writers show the cost of poverty, the skills gaps, the drop out crisis, etc. Instead of creating this research myself my goal has been to find and re-circulate articles written by people with far more skills and research talent than myself. Motivating more people to read these articles and become personally involved in providing resources to support solutions is a goal that young people and adults from many sectors can adopt and lead. You can find this library at http://tinyurl.com/TMC-Library
Are you already having this conversation? Where? If you post in spaces I host you can attract the people in my network to your space. I can do the same. Share your ideas with me on Twitter @tutormentorteam or on Facebook at http://www.facebook.com/TutorMentorInstitute

-----------------------------------------------------------
Thank you! You read to the bottom of the page. If you do this every month you are truly dedicated. I'd like to hear from you. Email me at tutormentor2@earthlink.net or join one of the forums I've pointed to.
Good luck to everyone as they launch a new school year of tutoring and mentoring.