See past print newsletters. See past media stories.

Leaders in business have talked of the importance of sharing knowledge, such as in this

2003 quote by Mr. Tim Wilmot. Chief Knowledge and Evaluation Officer, Charles and Helen Schwab Foundation

:

"When nonprofit and community leaders share ideas, insights and information in ways that promote social impact...knowledge-sharing can improve organizational effectiveness. When we share what works and what doesn't... it results in accelerated learning, less reinventing the wheel, better service, and measurable results."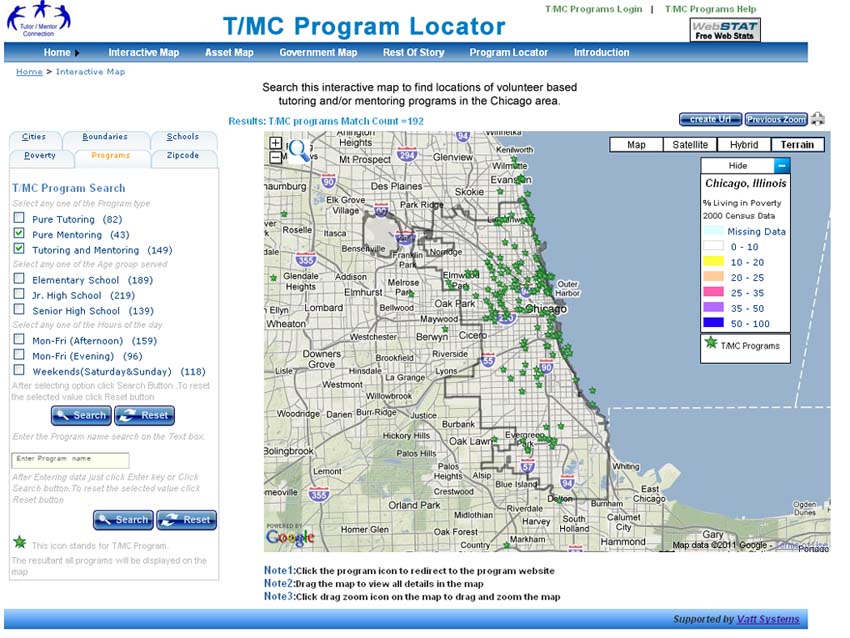 In 1998 the Tutor/Mentor Connection launched its first web site with the help of volunteers from the Cabrini Connections program. In 2004 a searchable directory was launched and in 2005 the Tutor/Mentor Blog was launched. In 2008 an interactive, map-based directory was launched. Through the years T/MC has responded to questions from parents, social workers, media, volunteers and people looking for information for starting programs, or for sustaining them. An on-line documentation system was created in 2000 to capture some of these interactions.

Funding for Cabrini Connections, Tutor/Mentor Connection never has been consistently available and has been even more difficult to obtain since 2001 due to loss of business sponsors, the downslide of the economy, donor changes in focus.
Despite these obstacles more than 1 million visitors have come to T/MC web sites since 1998. More than 1000 organizations have participated in Tutor/Mentor Conferences since 1994. Dozens of media stories have been generated that focus on tutor/mentor programs in all parts of Chicago, not just one tutor/mentor program in Cabrini Green. Many people have benefited from the information we collect and share.